The assortment in your local store may vary.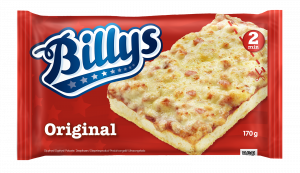 Billys Original
The Original from 1993! Billys Pan Pizza with delicious cheese, smoked pork and ripe tomatoes. A perfect snack before heading to the football practice.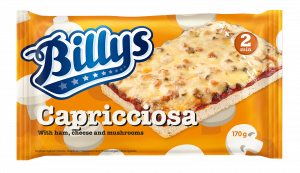 Billys Capricciosa
Who does not love a classic? With gooey cheese, pork and mushrooms, this Pan Pizza is the perfect snack when time is of the essence but you still want something delicious.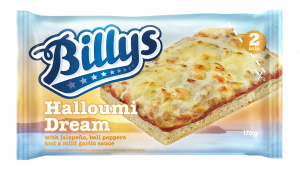 Billys Halloumi Dream
This Billys is for all the cheese and halloumi lovers! Halloumi dream brings the heat with jalapeño, bell peppers and a mild garlic sauce but balances it out with the cheese. Giving you the perfect snack combination.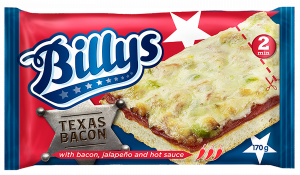 Billys Texas Bacon
It's a Texas thang! With cheese, bacon, jalapeños and hot sauce, for some flavor and heat. A perfect snack when you want your Billys with some extra zing.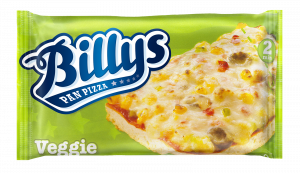 Billys Veggie
Greens! Billys Pan Pizza with grilled Mediterranean vegetables, ripe tomatoes and delicious cheese. A perfect snack before heading to the handball practice.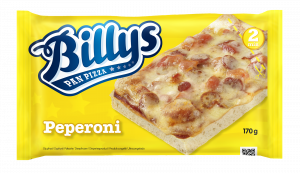 Billys Peperoni
A hot option! This Billys Pan Pizza brings the heat! With spicy pepperoni, delicious cheese and ripe tomatoes. It is a perfect snack when you want some extra heat.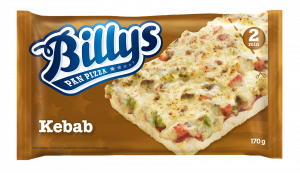 Billys Kebab
Nothing beats Billys kebab! A Pan Pizza with tasty kebab, extra spicy tomato sauce and white kebab sauce. A perfect snack before taking a bike ride.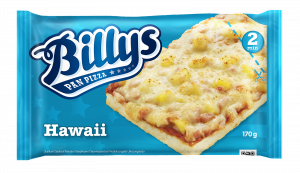 Billys Hawaii
Hawaii pizza, Billys style! This Pan Pizza is always topped with smoked pork, pineapple and of course a delicious layer of cheese. A perfect snack when you want something sweet and savory.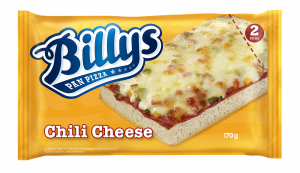 Billys Chili Cheese
With gooey cheese and the perfect heat, this chili cheese Pan Pizza is perfection! With bell peppers, jalapeño, cheese and cheese sauce it is the perfect cheesy snack before any game day.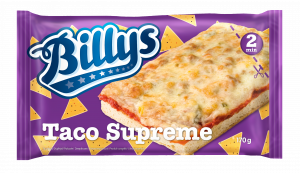 Billys Taco Supreme
Taco Friday in one single pack! Enjoy the cheese, bell peppers and some crunch in between.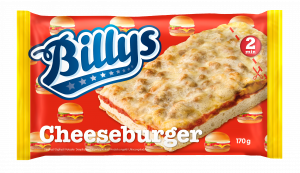 Billys Cheeseburger
Two in one! Can life be more exiting? With beef, gooey cheese, sauce and the famous Billys pizza dough.